specifically designed for educational applications, Classnika's vision is to create a rich, end-to-end e-learning experience that mimics face-to-face learning and is fun, engaging, productive and safe for all ages.
Sign Up
Register and ask your students to sign up
Create
Create and manage classes and your schedule
Share
Share class material and assignments
Run
Run classes using multiple video channels to capture the class environment
Evaluate
View reports, evaluate assignments and easily bill for your class time
Fit for Purpose

Not a mishmash of disparate tools, Classnika is specifically designed for educational applications
Puts the Teacher in Charge

Unlike general purpose video conferencing tools, Classnika provides teachers with a level of control that mimics the control they have over their face to face classes
Increases Teacher's Productivity

Classnika helps teachers manage their courses and classes with multiple video channels, improving productivity
Improves Students' Engagement

By creating a more immersive class experience, Classnika improves students' engagement, focus, and attention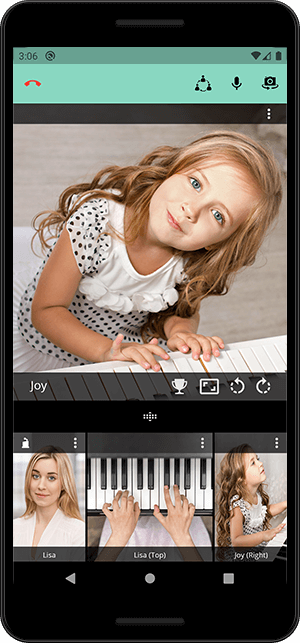 Using Classnika for music tutoring is practical, easy and fun. As a piano teacher, Lisa can run one-to-one or group classes easily. She is currently doing a one-to-one class with Joy and has set up two cameras in front and top positions. This allows Joy to see both Lisa's face and her hands. Maintaining facial contact with the teacher improves engagement of students and helps with their discipline and attention in the classroom.
Lisa can select which view appears on the larger section of the screen for Joy. She usually sets her top view that displays the piano keyboard for Joy to see in the large section of the screen and switches to front view as needed. She can also see Joy from a right view and a top view and zoom into each. This helps Lisa to be able to see Joy's posture and fingering and correct her technique.
Lisa can also use Classnika for group piano lessons. She can silence the class, preventing students from interacting with each other and thus improving control and focus in the class when needed. She can also put students on "stage" when they need to contribute to the class. Alternatively, she can put her front or top video channel on stage, so that everyone can see her or her piano in their big view, as needed.
Classnika's multi-view technology allows the teacher's actions to be captured from any number of angles, helping students to see teacher's workspace and hand movements. Teacher can also observe students in action and make corrections as they perform their tasks.
In this case, a top camera captures the student's workspace and his hands and the teacher can comment on his hand movements. The student is also able to see his teacher's face and workspace at the same time and he is able to copy the teacher's hand movements.
In our testing, maintaining facial contact with the teacher, in addition to being able to see their workspace, improved student's engagement.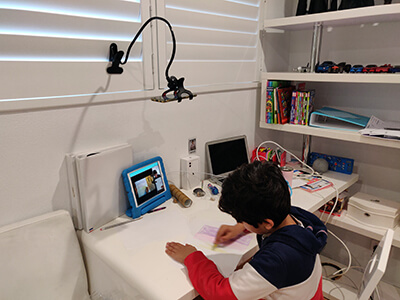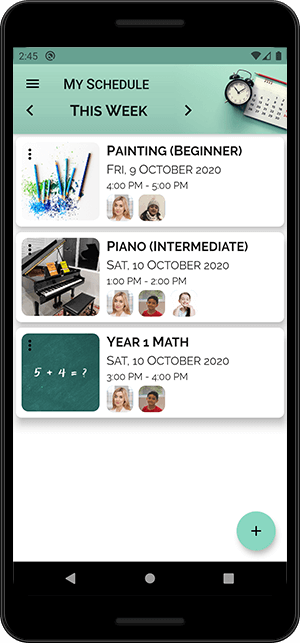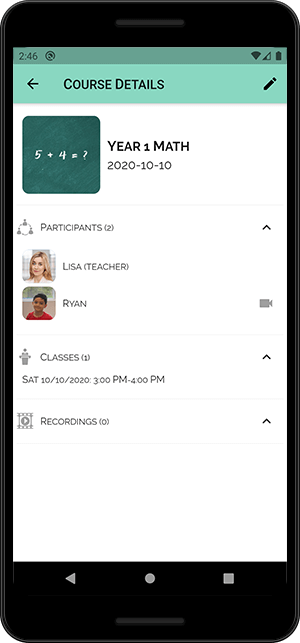 Classnika is only open to authenticated users. The teacher adds authorised students to the class directly in the app, with no invitations to forward to, and classes automatically appear in the student's schedule.
The app also provides a silent mode which stops interactions between students when enabled.
When it comes to protecting your data, we strongly believe privacy is a right and not a privilege and that is why we take extreme care in delivering services that adhere to privacy and security best practices and meet and exceed applicable regulations. You can review our privacy policy document here.
Amazing Infrastructure,

Amazing Opportunities
Scales to hundreds of thousands of classes in seconds
Tens of students in a classroom
Real-time data flow within milliseconds keeps everyone up-to-date
Intelligent routing with sub-second video latency around the globe for best visual and audio quality
These short tutorial videos would help you quickly get up and running with Classnika and familiarise yourself with its features. Please note that we are adding more videos in an ongoing basis, focusing on different aspects of the app.